45 Perfectly Patriotic 4th of July Decorations
Summer is right around the corner which means we are getting a jump on our 4th of July decorations! We couldn't help but round up some of our favorites for you to enjoy too!
Our list of 4th of July decorations includes DIY ideas, 4th of July outdoor decorations, and even budget-friendly patriotic decor! So if you're searching for something red, white, and blue … this list is for YOU!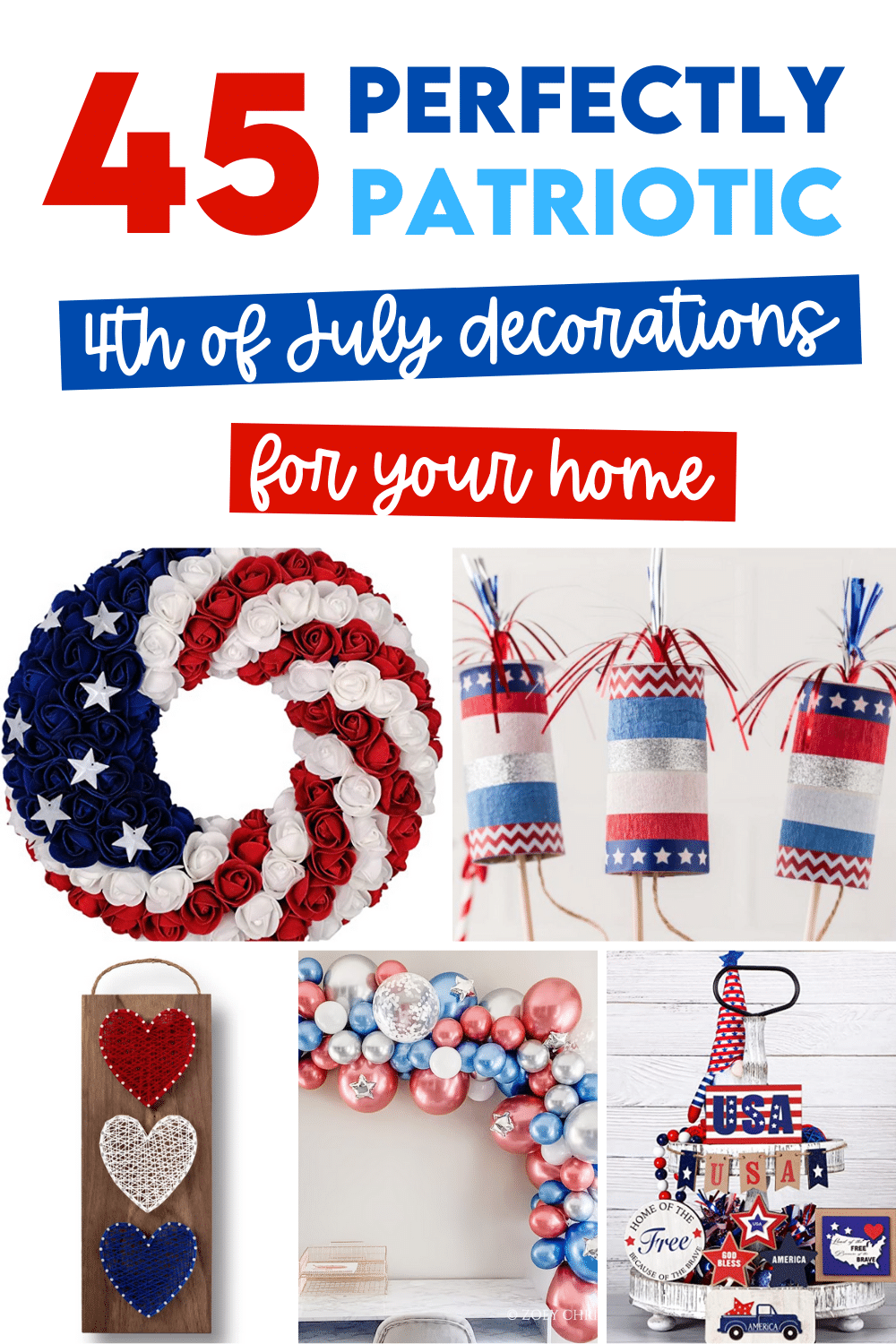 Disclaimer: This post contains affiliate links. To learn more about 'em, click here.
Table of Contents
Budget-Friendly Patriotic Decor
Decorating a home can be expensive, and it can be hard to want to spend money on making your home festive for a holiday that is only celebrated once a year. This is why we wanted to include beautiful budget-friendly patriotic decor. No one will know how much you didn't spend!
1. Patriotic Box Sign – This cute sign would look great on a themed mantle, as part of your dining room table decor, or even on its own!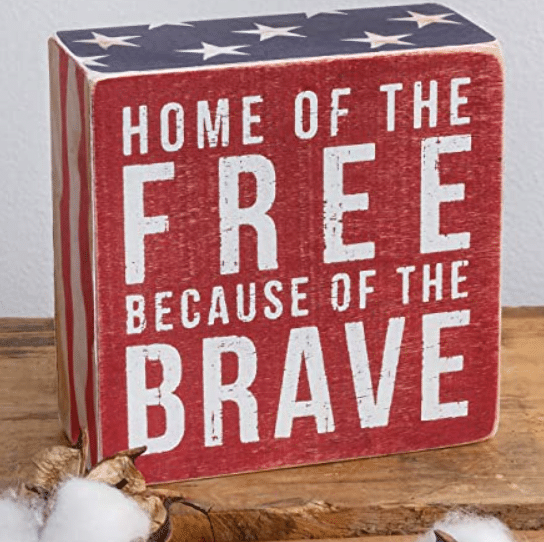 2. Patriotic Stars – We love how you can switch up the look of these stars!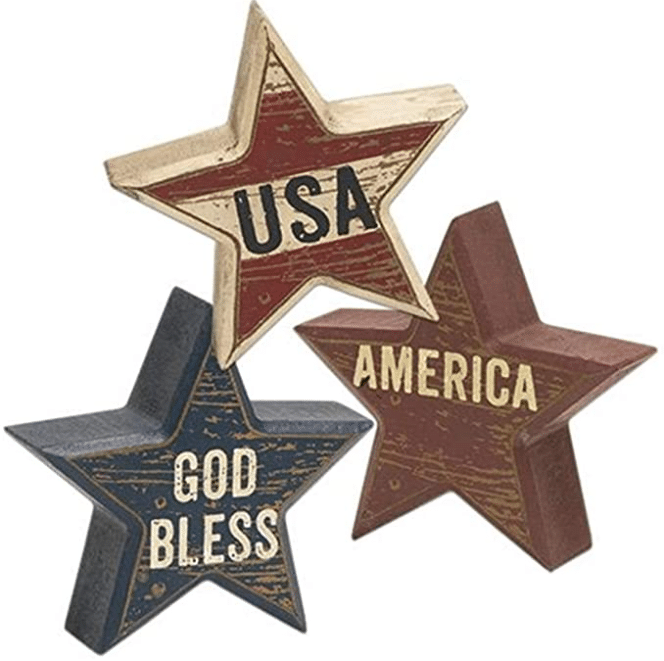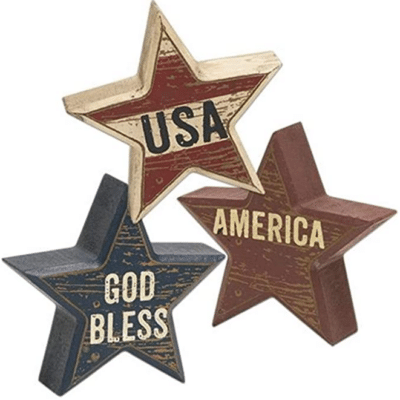 3. 4th of July Wreath – We love how this wreath makes a statement!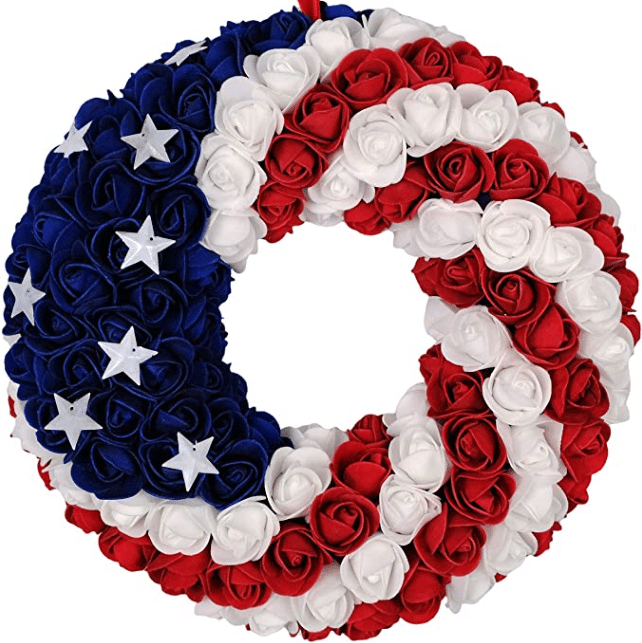 4. Patriotic Table Runner – This reusable table runner is great for parties.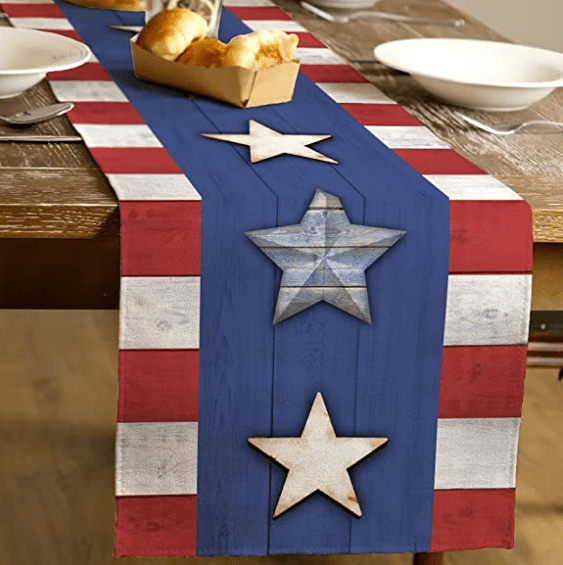 5. 4th of July Tiered Tray Decor – We love the tiered tray trend! This set comes with 12 pieces, which is great value for the price!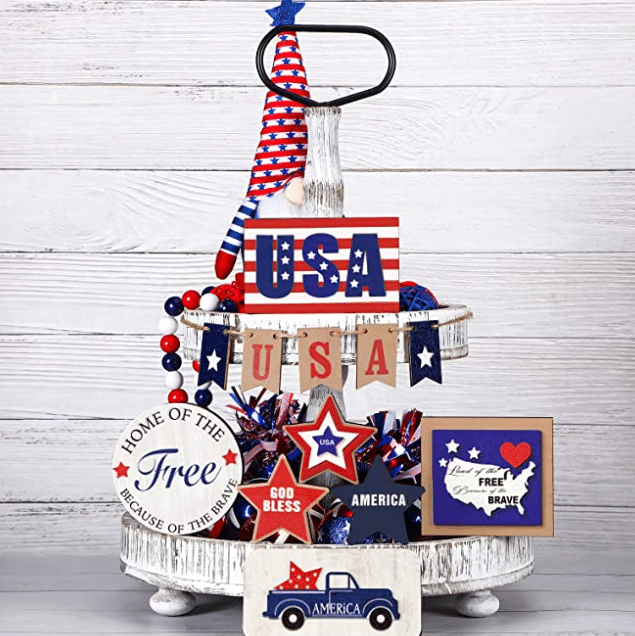 6. Star Shaped Rattan Balls – Perfect for filling clear vases, decorative bowls, or hanging from the ceiling!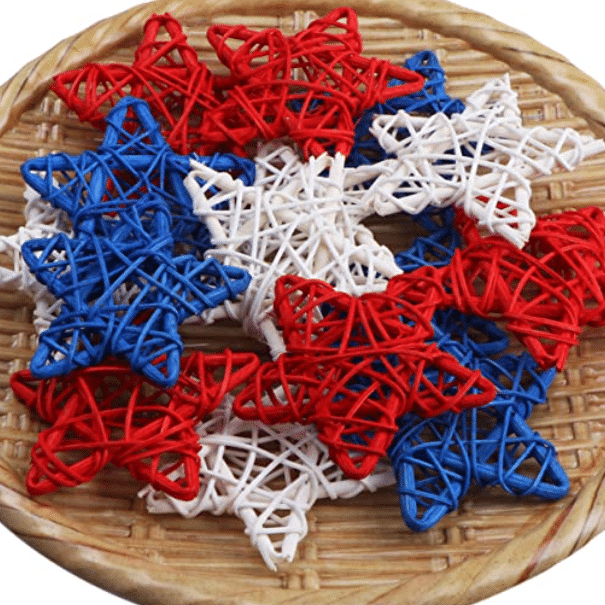 7. Pillow Covers – Changing up the look of your family room is easy peasy with pillow covers!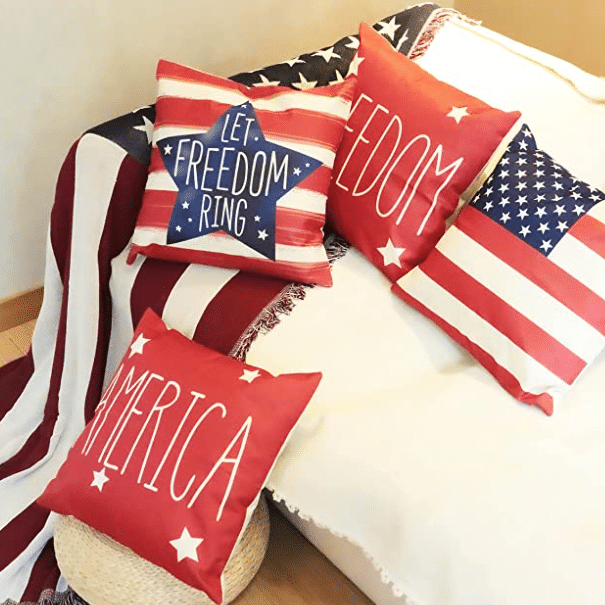 8. 4th of July Wooden Blocks – These blocks fit perfectly on top of a mantle or shelf.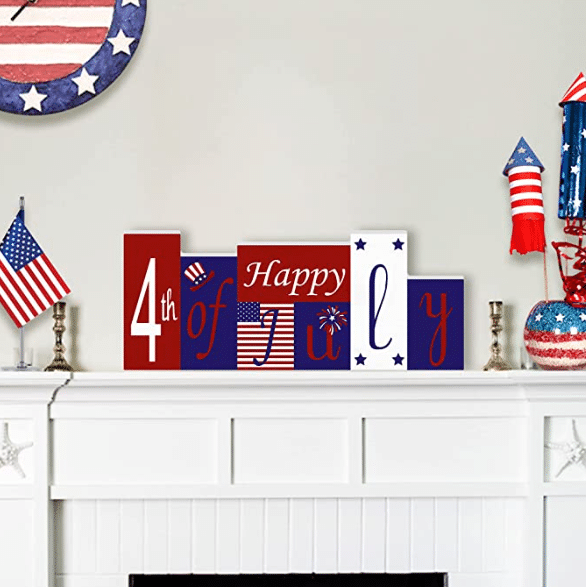 9. Mini 4th of July Sign – Who doesn't love a mini sign?! This cutie would look great on a tiered tray.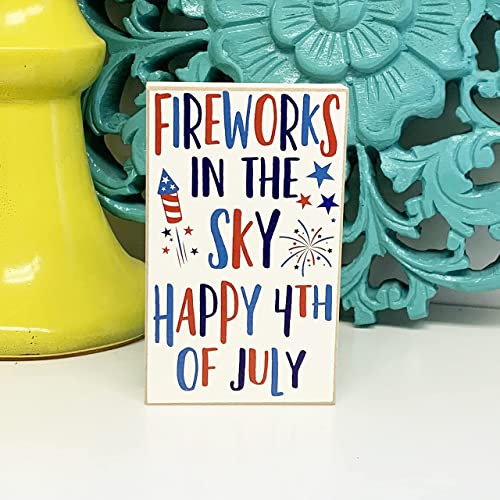 10. Patriotic Kitchen Towel – What a fun way to dress up your kitchen for a holiday!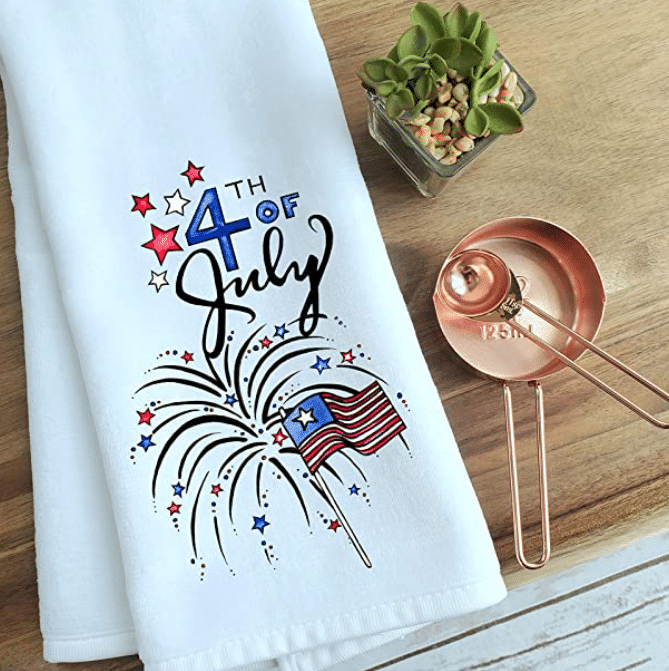 11. Red, White, and Blue Garland – We are obsessed with garlands. This one comes in several sizes, too!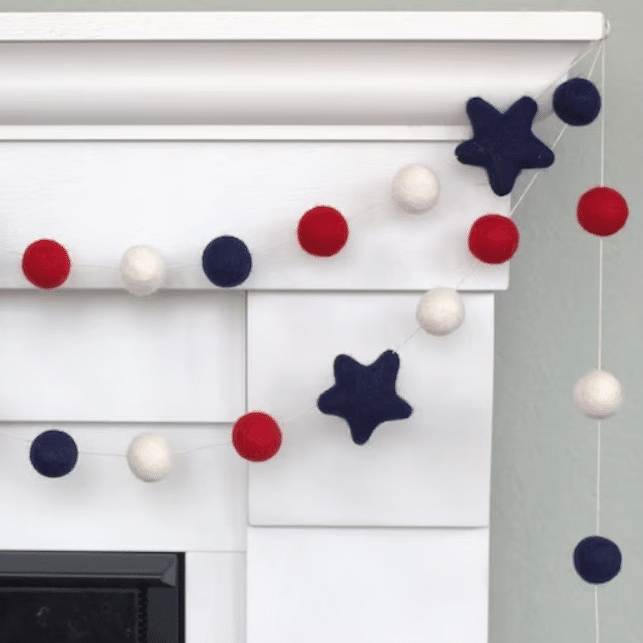 DIY Fourth of July Decorations
We found some ready-to-assemble DIY kits that you can purchase and put together on your own as well as some completely DIY projects from some of our favorite bloggers!
12. Patriotic Hearts String Kit – This string art looks so easy, and it would perfectly complement the rest of your Fourth of July decorations!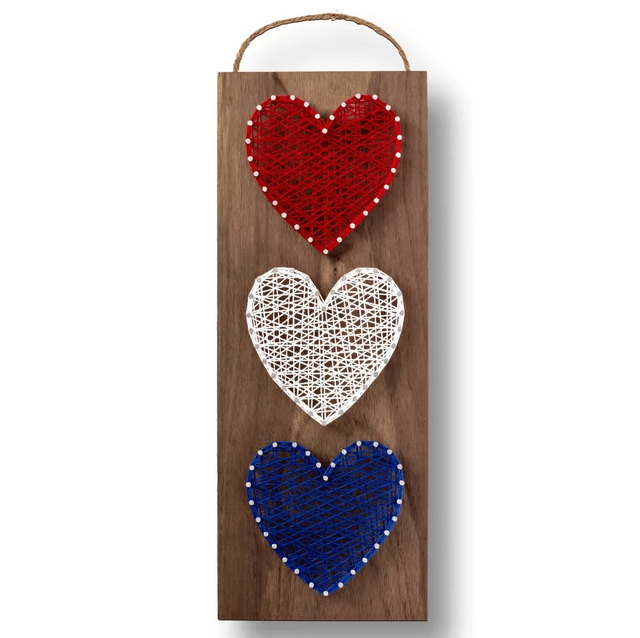 13. Firecracker DIY Kit – These wooden firecrackers would make a great centerpiece!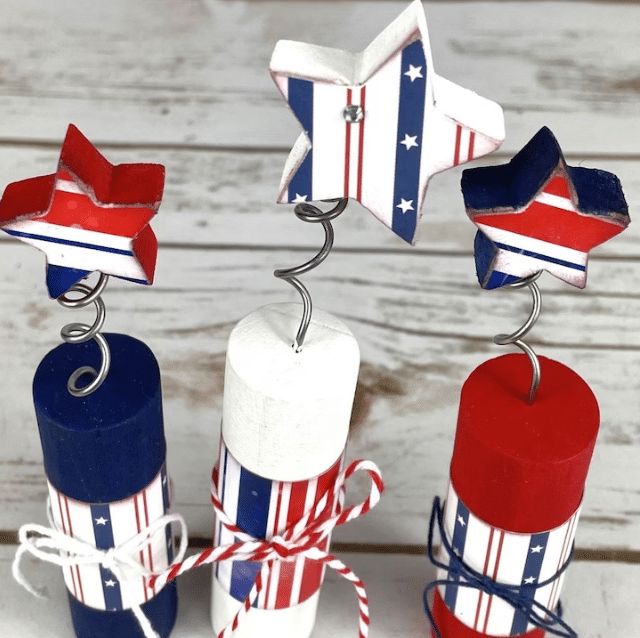 14. Patriotic Display Box Kit – Feeling crafty? The finished project would look so cute on your mantle!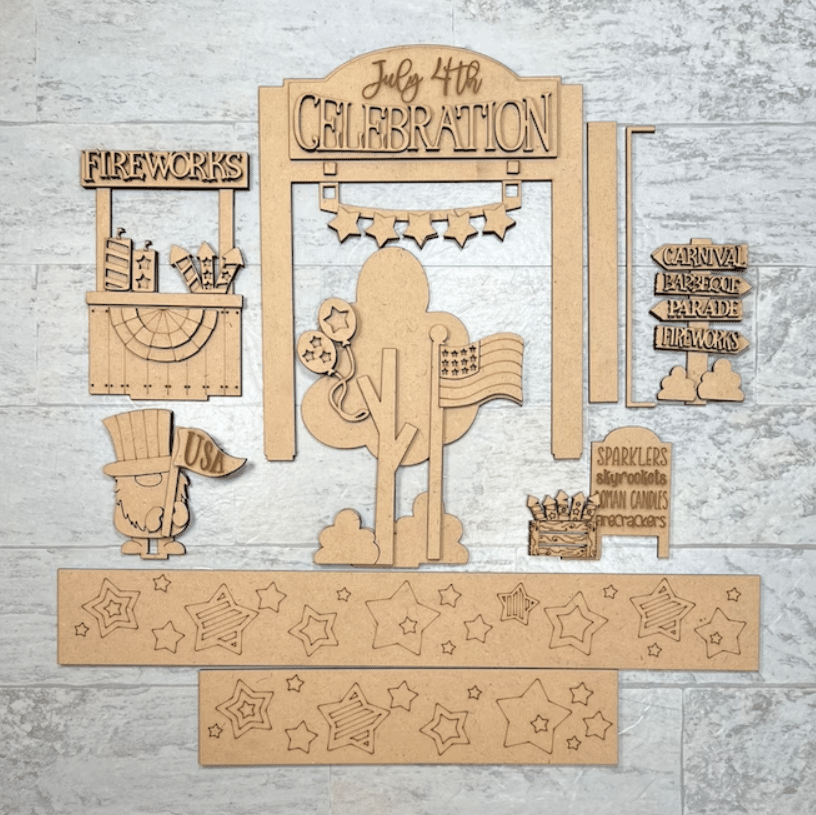 15. Fireworks Stand DIY Kit – Another cute DIY piece for your mantle, side table, or porch!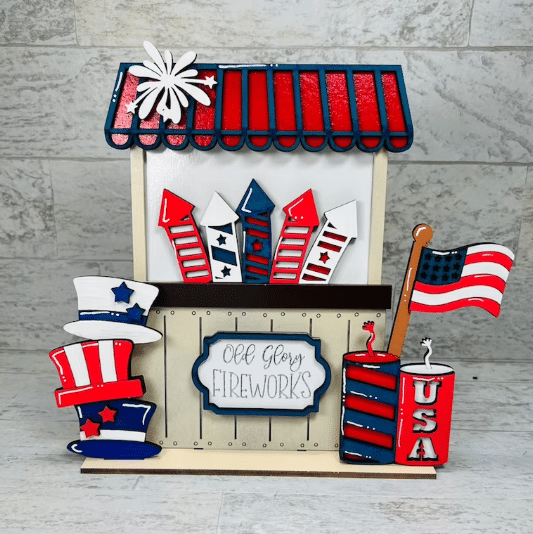 16. DIY Stars Kit for Kids – July 4th is mid-summer vacation, so we're sure you'll be needing some projects to keep your kids busy! These are fun, easy, and super kid-friendly!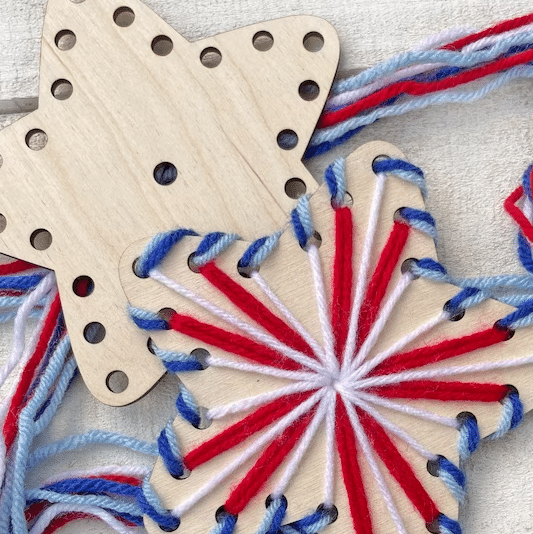 17. Patriotic Printables (Somewhat Simple) – These printables are darling! Just print, cut, and glue onto a stick and BOOM. You've got something to keep you cool during all the 4th of July parades!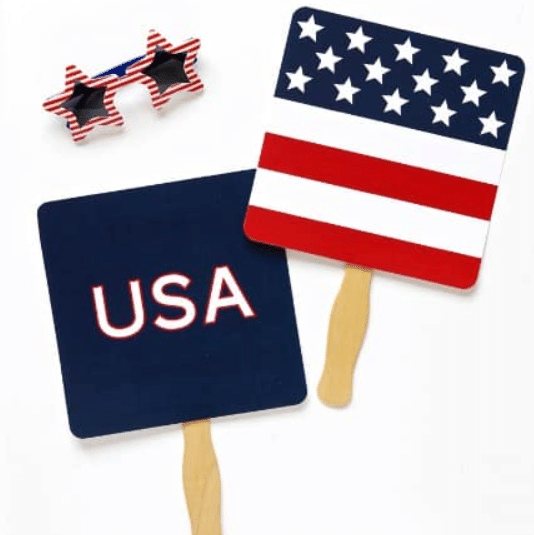 18. Trio of Patriotic Ruffle Wreaths (Infarrantly Creative) – The finished project for this DIY craft is so stinking cute!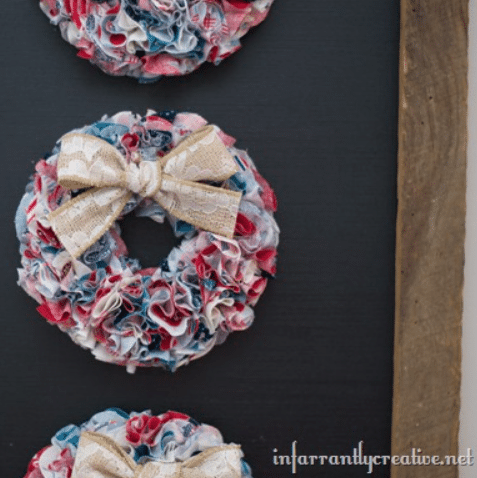 19. DIY Firework Craft for Kids (Play Party Plan) – Here is another great craft to keep the kids busy!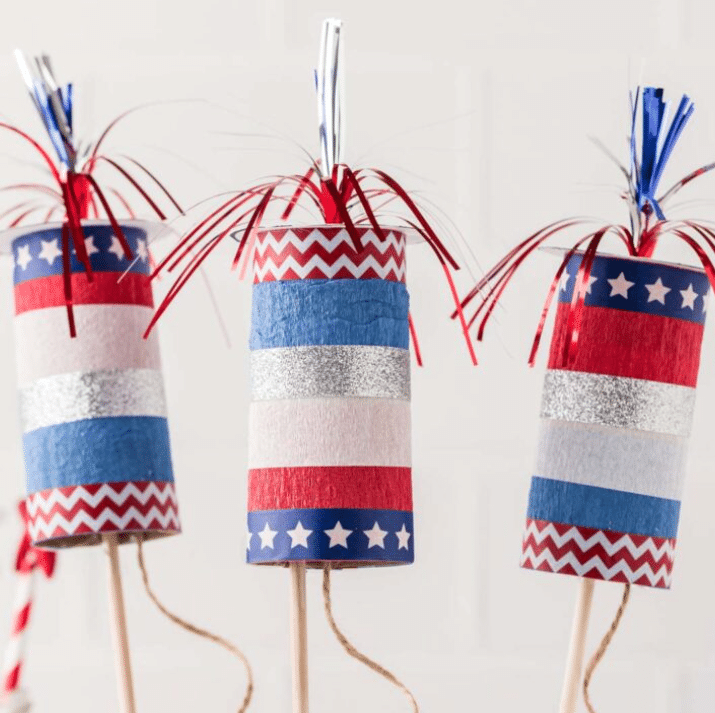 20. 4th of July Clothesline Art (Artsy Fartsy Mama) – Cute, simple, and something you'll use for years.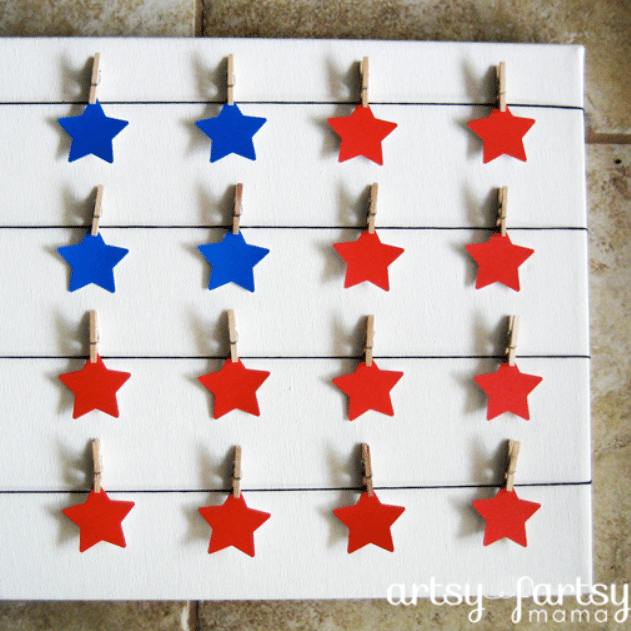 21. Patriotic Plate Purses for Kids (Pink Stripey Socks) – One more craft for the kiddos! You probably have everything you need for this craft already!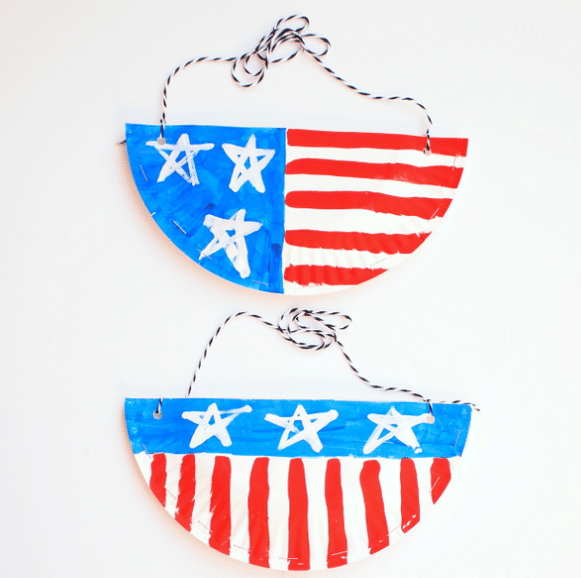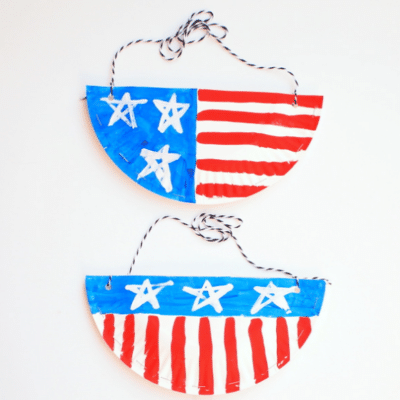 22. 15 Minute 4th of July Sign (Ginger Snap Crafts) – We love how you can completely customize this one to fit your style!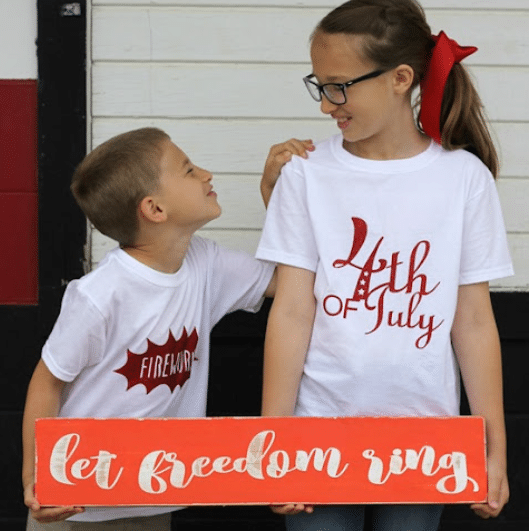 23. 4th of July Pinwheels (Kiki & Company) – These would look so cute stuck inside flower pots or even to help keep the kids entertained during a barbecue!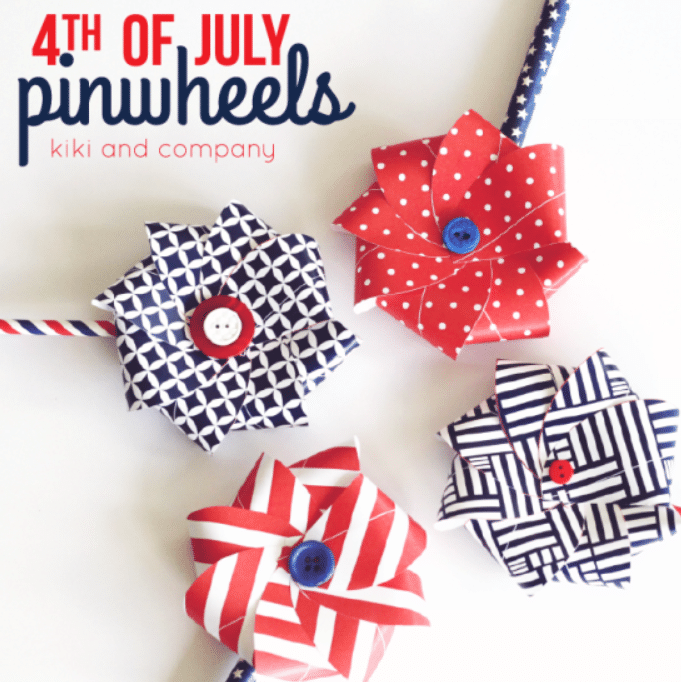 4th of July Outdoor Decorations
Festive decor doesn't need to stay indoors! Dressing up the outside of your home can be just as fun. We think you'll love these 4th of July outdoor decorations!
24. Patriotic Trunk Planter – How cute would this be on your porch?!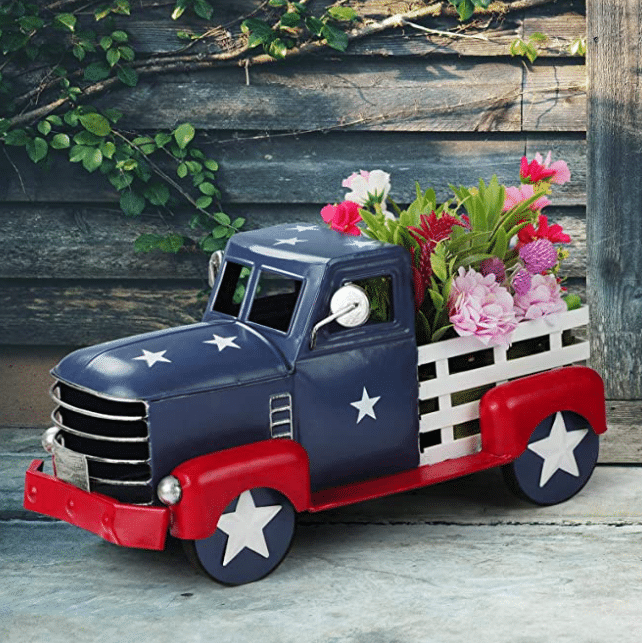 25. Patriotic Bunting – We love the look of this bunting on a fence! You could also hang it from your windows.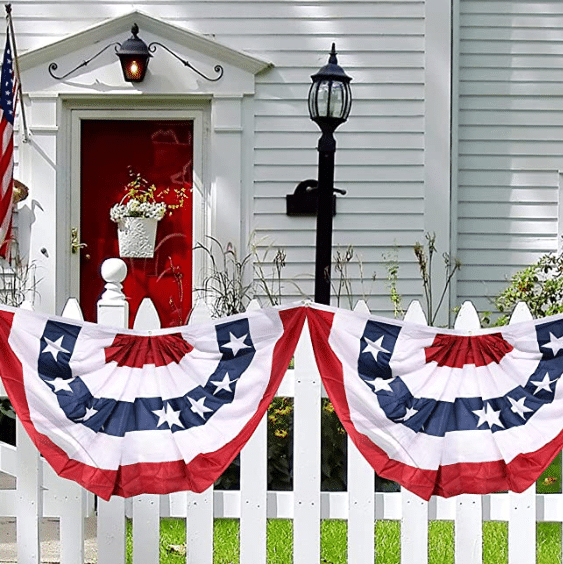 26. American Flag LED Lights – How cool is this?! We are obsessed!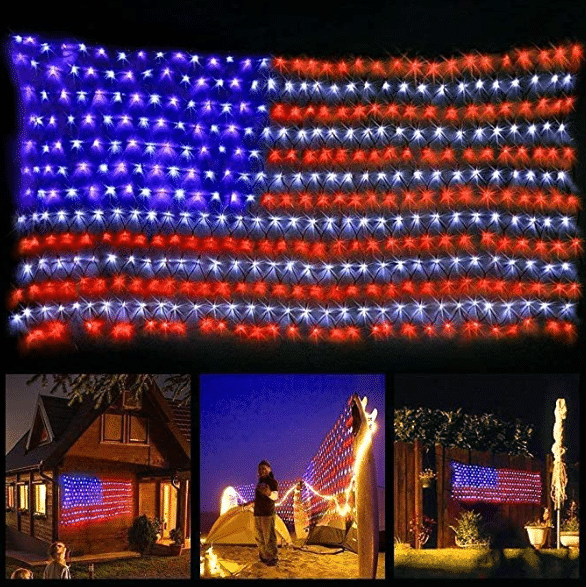 27. 4th of July Wooden Door Hanger – This door hanger would look so cute on any front door, but it would look even cuter hanging on a themed porch with other 4th of July decor!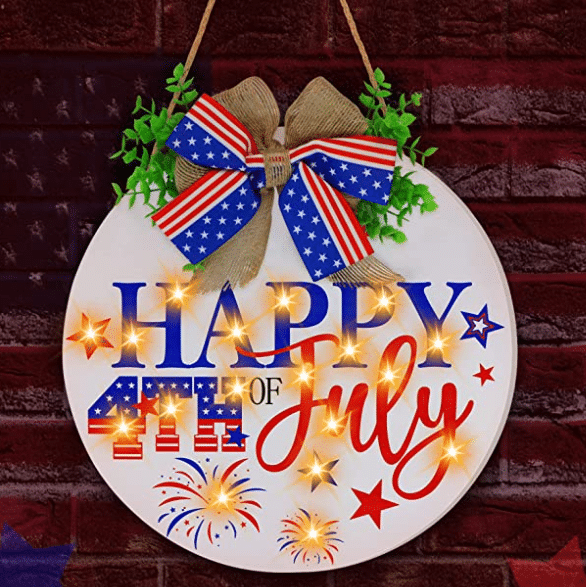 28. Red, White, & Blue Lights – Move over, Christmas. We're decking the house for Independence Day!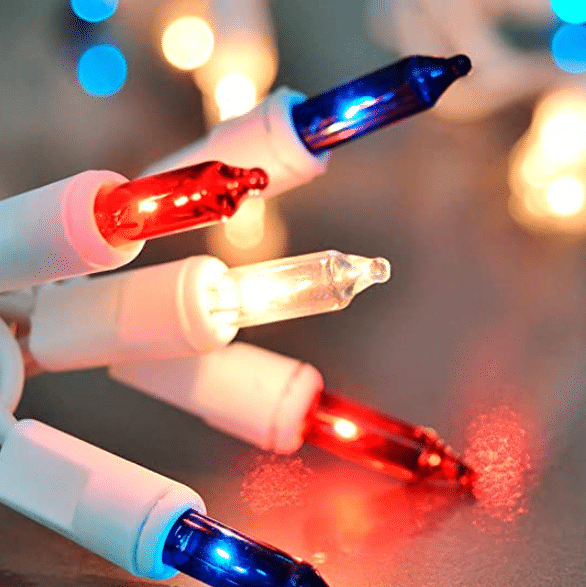 29. American Flag Banners – We love the sophisticated look these add to a porch.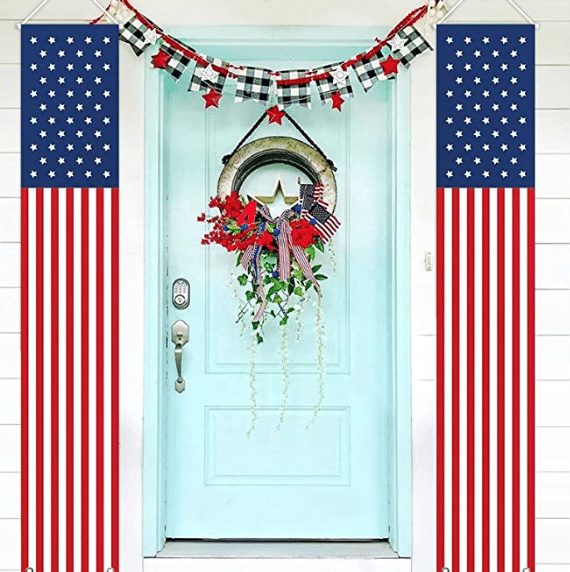 30. Lawn Stars – If you need to find something for your kids to do, give them a package of these lawn stars and tell them to decorate the yard!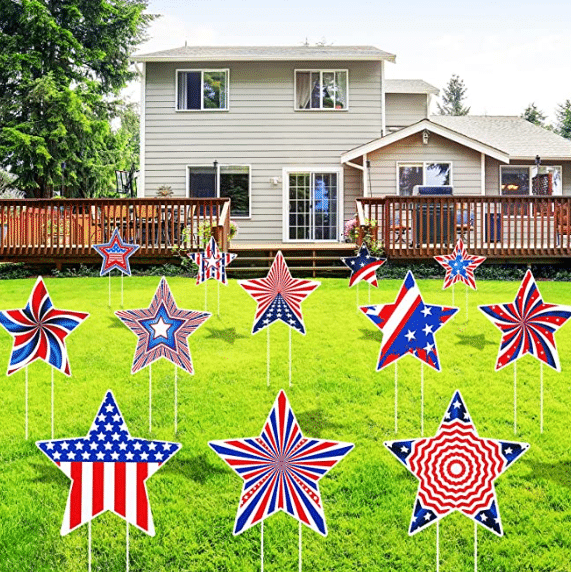 31. Patriotic Wind Sock – No place to hang an actual flag? No problem! This wind sock is a great alternative.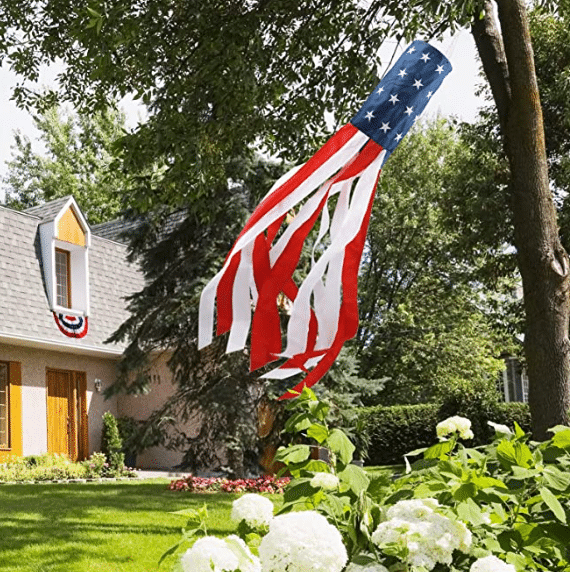 32. Patriotic Welcome Mat – What a cute way to dress up the porch!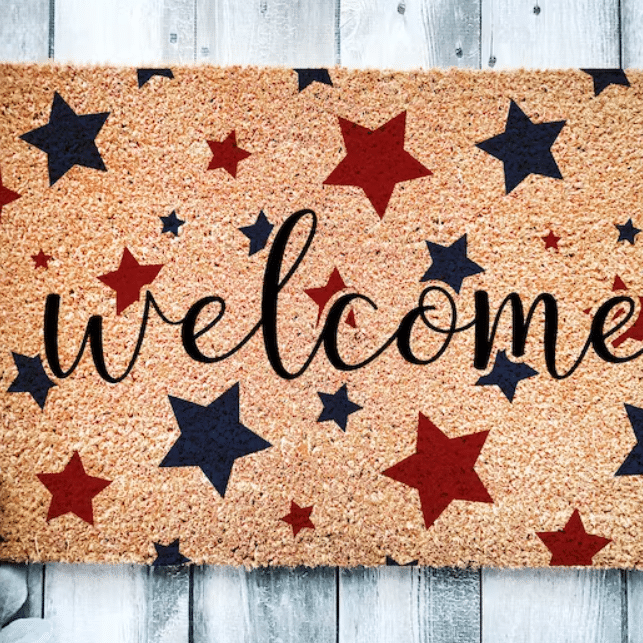 33. Patriotic Yard Stakes – You can use these in the yard or even in your potted planters on the porch.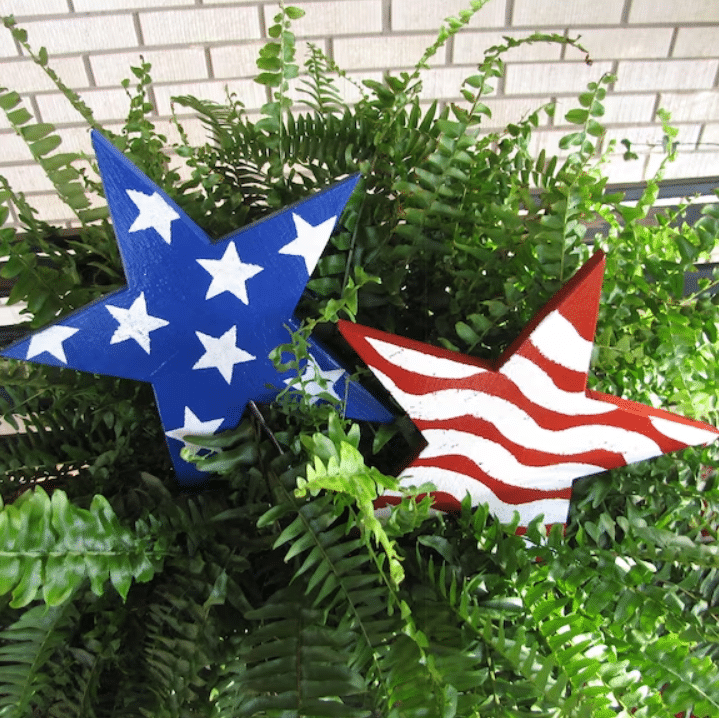 34. USA Yard Stakes – Plop these babies in your flowerbed for a fun, unique touch on your festive lawn decor!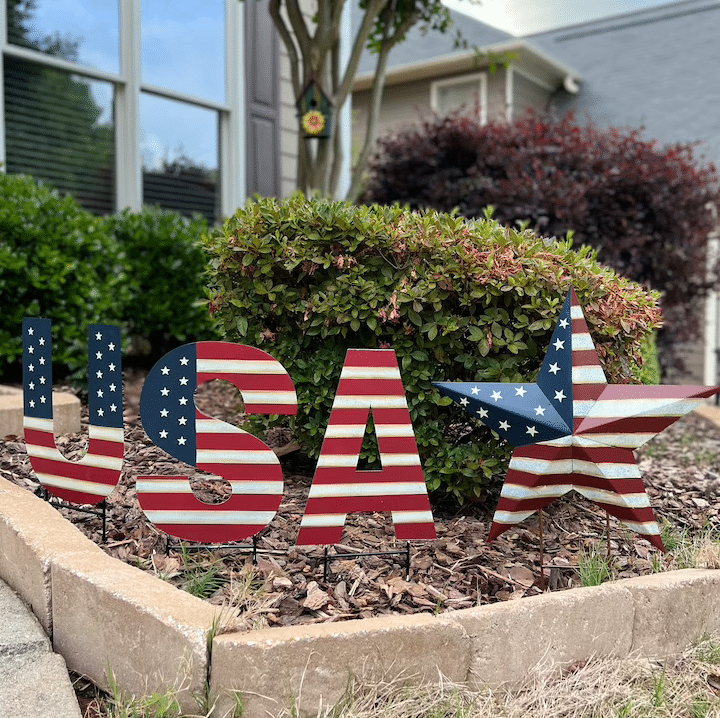 35. Oh My Stars Outdoor Flag – This flag is double-sided!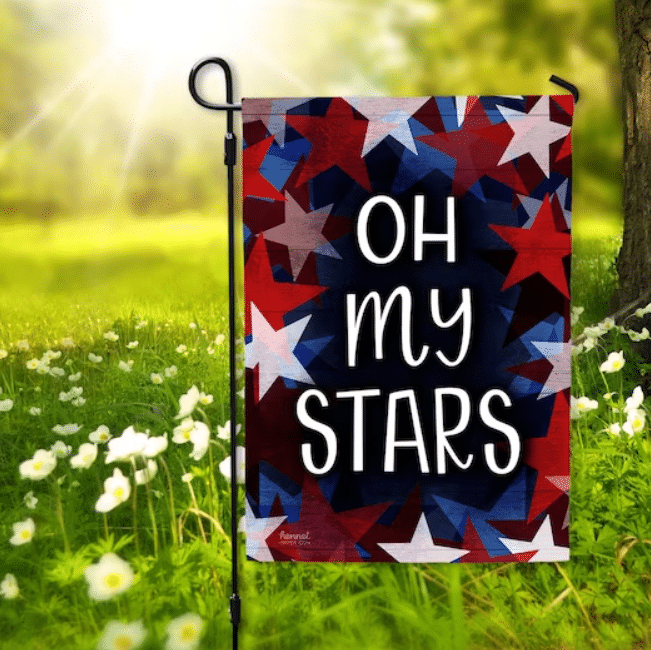 Splurge-Worthy 4th of July Decor for Your Walls
If you're one of those people who love to change up the decor on your walls for the holidays, these are for you! These Fourth of July decorations are a little on the splurgy side, but we wanted to include them because they're all absolutely beautiful!
36. National Anthem Wall Art – We could not love this more! It's perfect 4th of July decor, but we feel like you could keep this hanging year round!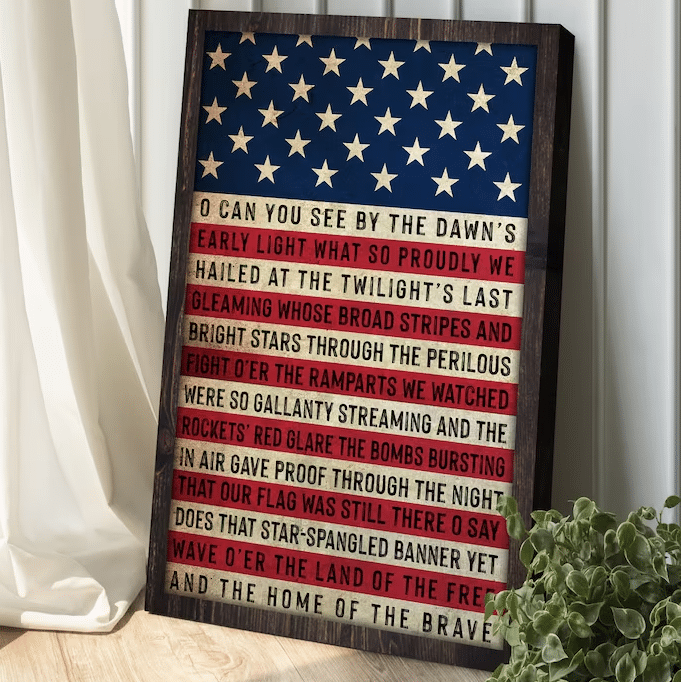 37. God Bless America Wall Art – This shop is constantly selling out of this beautiful piece, but don't worry! They always come back with another restock. If this piece is sold out when you go shopping, check out their other beautiful patriotic pieces.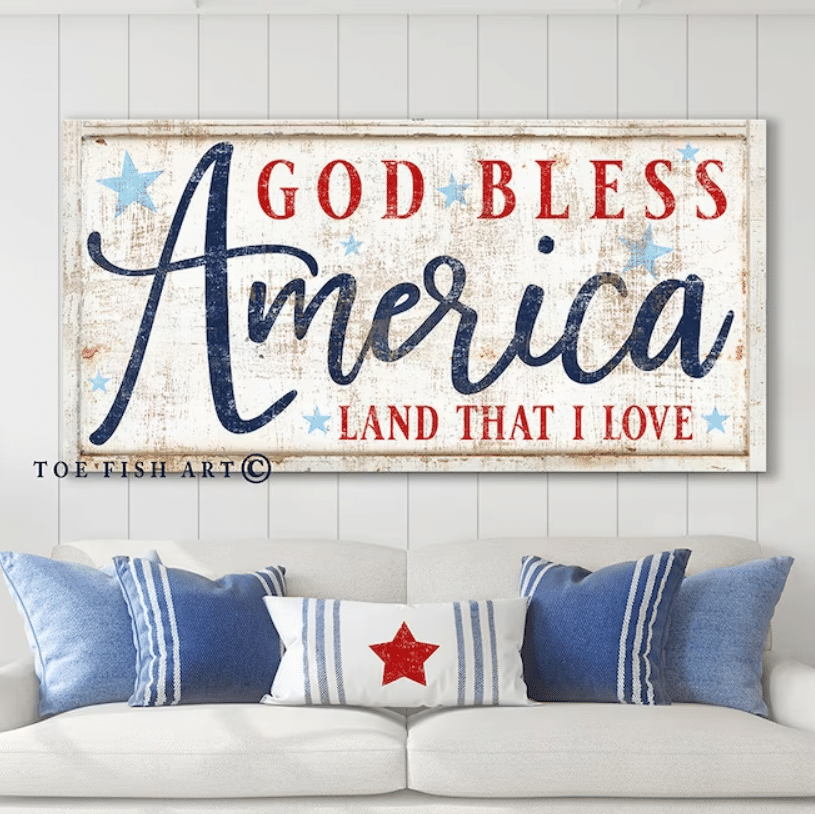 38. Betsy Ross Wall Art – This beautiful piece is printed on metal so it can be used indoors or outdoors, and it's another piece that can be displayed year round!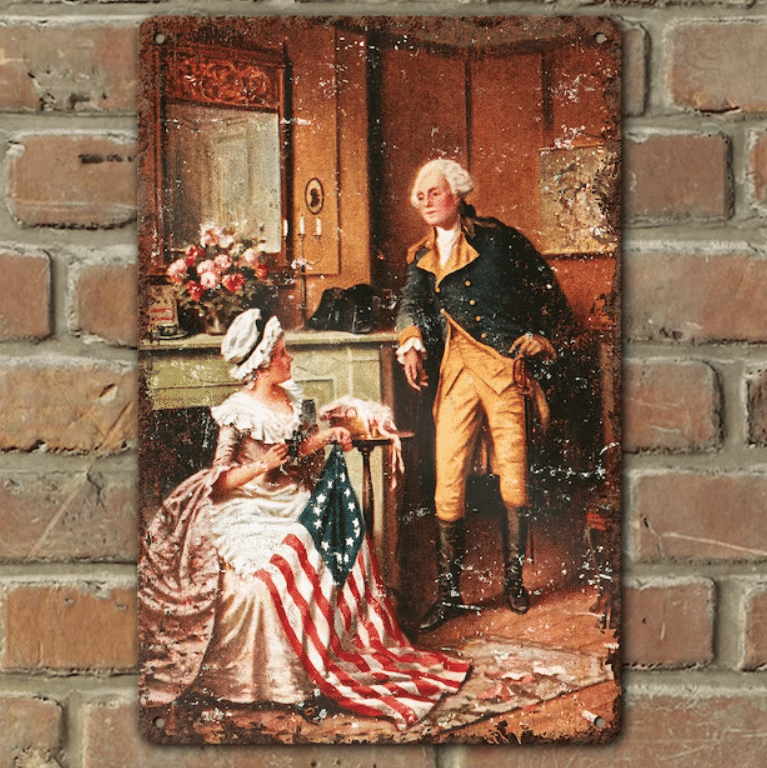 Patriotic Decor for Parties
You are going to love these 4th of July decorations for parties! Seriously, we want it all! Even better, they're all fairly inexpensive, and they all have awesome reviews.
39. Red, White, and Blue Stars Garland – Aren't these so cute? These would make a great backdrop for pictures, too!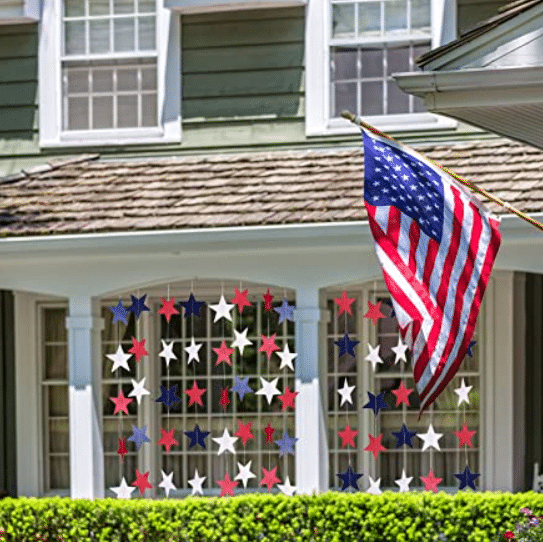 40. Fourth of July Party Pack – We love how this comes with so many different decorations! You can use them all in one room or spread them throughout the house and yard!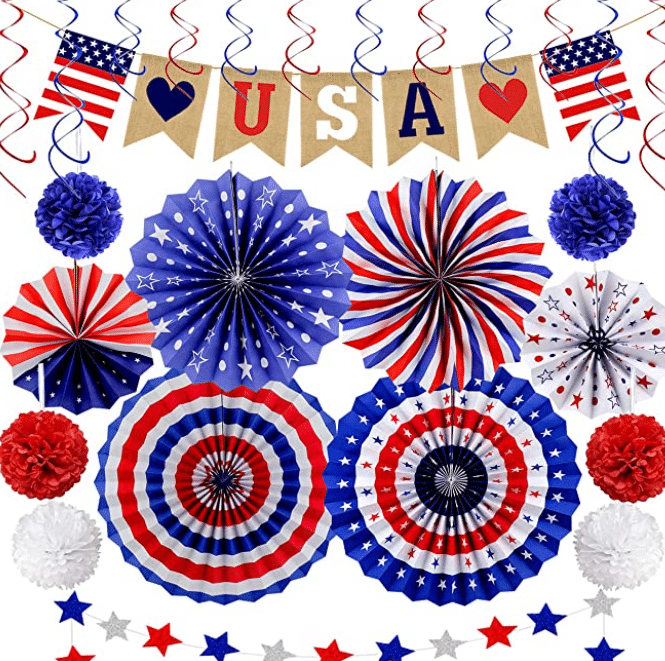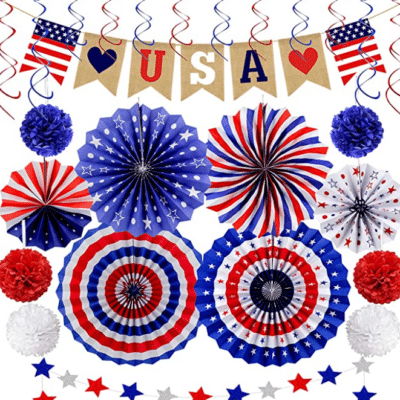 41. 4th of July Balloon Garland Kit – Balloon kits are so trendy right now, and look! This one pairs nicely with the star garland that we linked above.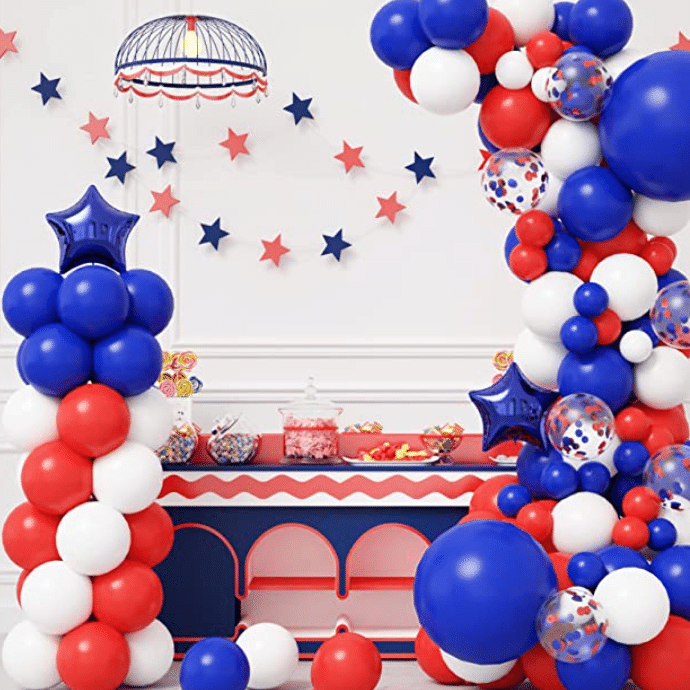 42. Patriotic Balloon Arch Kit – We love how the colors of this balloon kit are a bit muted and metallic. So pretty!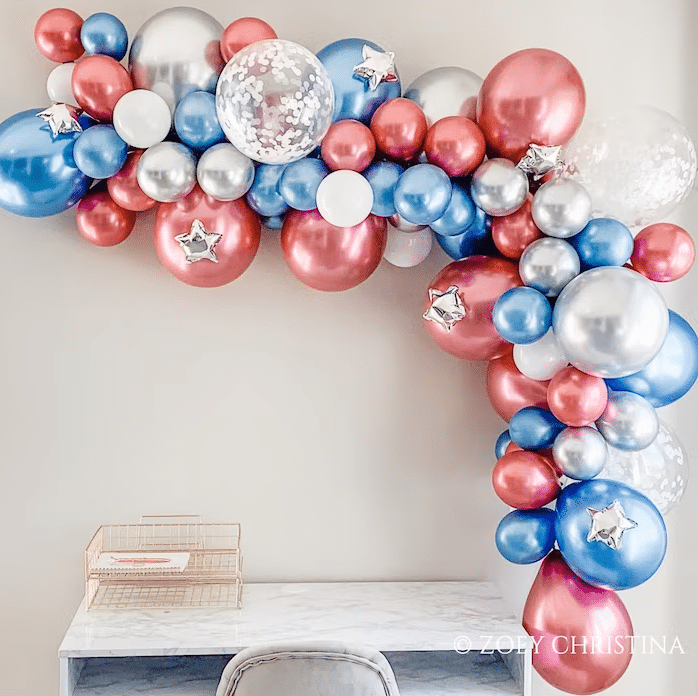 43. Fireworks Confetti – This confetti is so fun, and you can use it anywhere!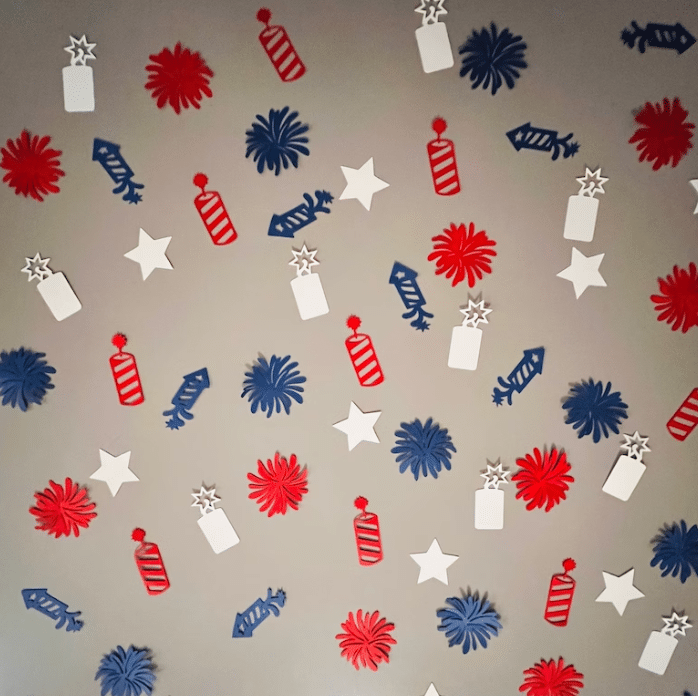 44. 4th of July Party Cups – How fun are these cups?! We know they aren't necessarily party decor, but you can't throw a party without cups!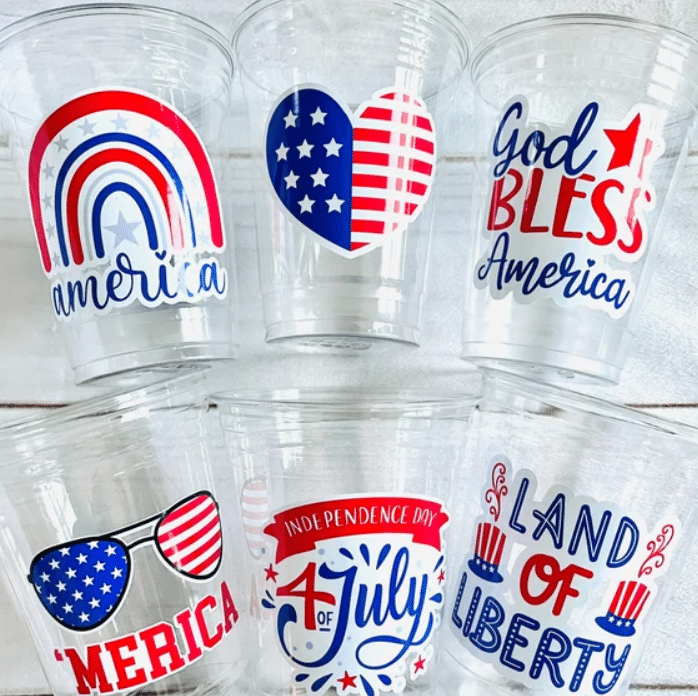 45. Patriotic Straws – And you definitely can't have themed cups without festive straws!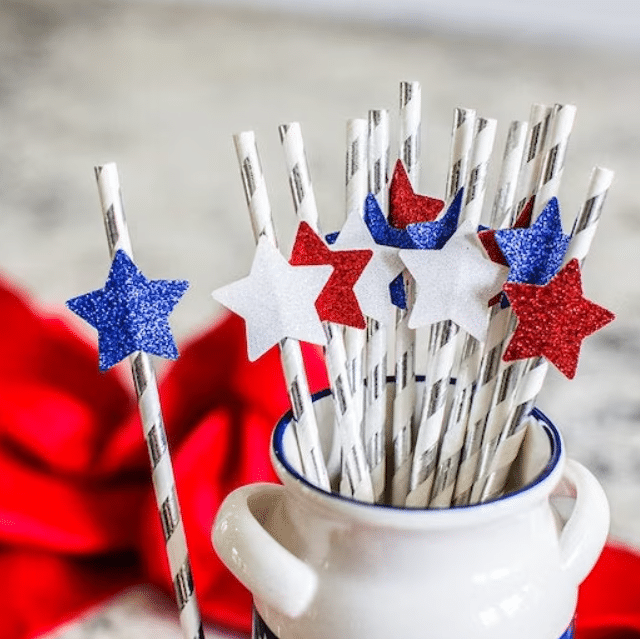 We hope you've found some fun 4th of July decor that you love! Happy Independence Day from the Divas!
Check out these other fun and festive ideas:
#Perfectly #Patriotic #4th #July #Decorations