We all want deep, godly friendships like Jonathan and David had, who were so close that the Bible tells us their souls were knit together! (1 Sam 18:1). But two big obstacles stand in the way: awkwardness and time constraints.
You might find you have the time to invest in people around you, but bringing up God just doesn't feel natural. If you do have people in your life that you feel comfortable sharing vulnerably with, it can be difficult to find the time. Or you might be running up against both obstacles in your life–and hard.
Friendships where you both are genuinely helping each other to find strength in God take time to form, and there's no shame in not being there yet. But the fact we live in this day and age actually does afford us some upsides, and with the technology and vast resources available to us, there are many ways we can initiate getting deeper in our friendships.
I have been lucky enough to have put most of these tips into action just in the last few months, and the fruit of it in my friendships and walk with God has been so sweet. The majority of my close friendships happen to be long-distance, which has meant I've had to get creative with staying in touch with my friends in a meaningful way. I wanted to do more than just catch up with them every few months–I wanted to continue learning from each other as we walk with God.
At the same time, the small ministry I am a part of at my church has been growing in their intentionality too, so I am stealing a few of their ideas as well. Wonderful things happen when people are committed to growing in their relationships with God together!
These tips could apply to one-on-one relationships, small groups, or your whole ministry. Read over each one and pray for God to show you opportunities to put them into practice. You might be surprised who is interested in doing one or more of these with you, and God will surely move!
1. Listen to and Discuss a Podcast Series Together
I put my favorite tip up top because I have found this to be so effective in my life. What you do is this: Pick a specific podcast series or topic to find podcasts on, pitch it to a friend, small group, or ministry group, and agree to listen to an episode once a week or once every other week (virtually is just great).
Of course, you could meet more or less often than that–but I wouldn't recommend going more than two weeks without meeting for the sake of momentum. And you don't have to necessarily listen to the podcast at the same time as each other unless you want to.
I think the reason this tip works so well is because it is fairly low-lift for both parties and because there are so many options available. Podcasts are free; you can listen to them while you are working out, doing chores, or doing other life things, and they are absolutely rich with points of discussion.
There are literally hundreds of spiritual podcasts to choose from, but my favorites to discuss are The Bible Project, The BEMA Podcast, and Wild at Heart.
All three of the above options have series dedicated to different themes, so you can agree to meet just for those 3-5 episodes, or what have you. This way, no one feels like they HAVE to commit to something long term, but can grow in a concentrated way for a short period of time.
It might be so mutually beneficial, though, that you'll want to keep going!
Recently, one of my best friends and I went through the Bible Project's series about generosity because we've both been struggling with feeling abundance in our life. It was so helpful to process what was both encouraging and challenging from what we were learning. And because we met every week, we could see how the material applied to our lives in fresh ways.
2. Read a Daily Devotional Together
There's nothing more helpful to build a new habit than to have some accountability. Reading a daily devotional is a goal for many Christians, but it doesn't have to be done alone. Whether it's a physical book or a digital series you are going through, having someone to talk to about what you're reading can not only help you to do it to begin with, but make your study so much richer and your friendship that much deeper.
I would recommend YouVersion's Bible app. This isn't just a Bible app, but a devotional app as well! They have so many plans to choose from, including options for shorter and longer reading plans.
You can pick a 3-day devotional to read with a friend, text about what you're getting out of it each day, and if it's helping you both, pick a longer one. You could study out a particular topic, like anxiety, or a particular Bible study, like a Gospel book.
This app even has a setting where you can invite friends to do the devotional with you and send reminders to read! Pick a topic, study it out, and either discuss your findings every day or at the end of the series.
Last Christmas, my women's small group wasn't feeling very merry and joyful like we felt we were supposed to be feeling, so we picked a series about the hope that baby Jesus brought with him. It was a special experience we all still talk about to this day!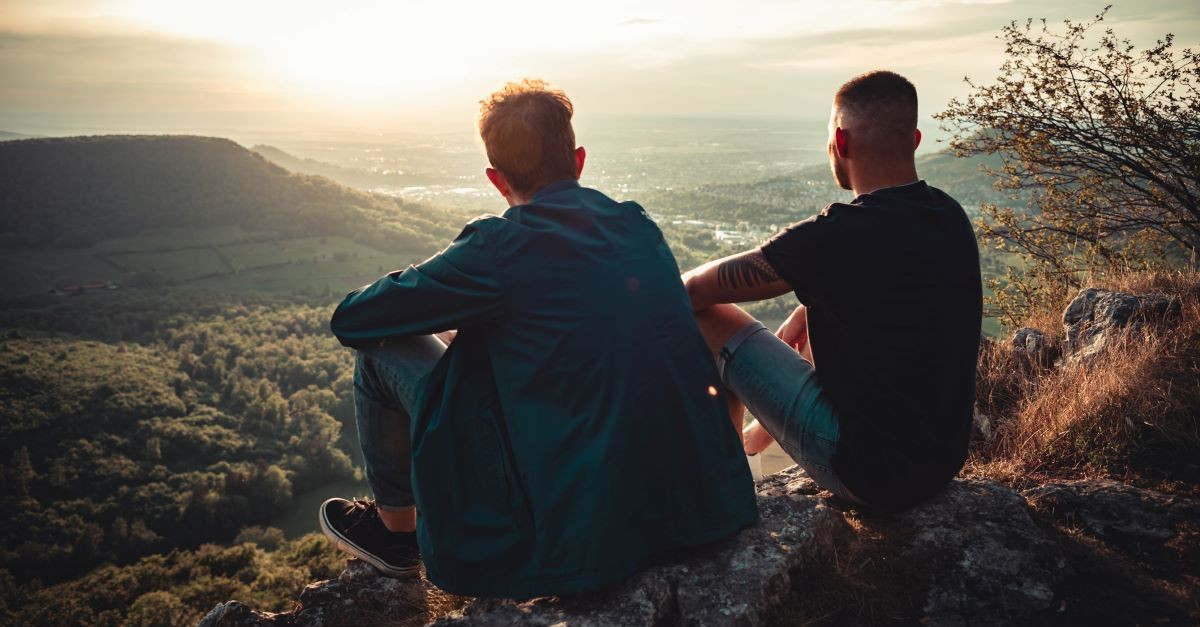 Photo Credit: ©GettyImages/Finn Hafemann 
3. Read a Spiritual Book Together
This is similar to the devotional tip but more long-term. Books can take months to go through, especially if you're just discussing one chapter a week–but that can be such a great thing. This longer time gives all of you a chance to see deep change happen and have more opportunities to walk together as friends.
Many Christian books have a workbook attached to them, like Emotionally Healthy Spirituality. They come up with discussion questions for you, so no one is burdened. It's just up to you to decide how many pages to read, how often you want to meet, and how you want to do it.
My out-of-town friend and I are reading through a book about wholeness right now, and it could not have come at a better time. We read a chapter or two, Facetime each other every Sunday night, and process what we got out of it and what we want to keep focusing on. I can feel our friendship deepen already as we truly walk with each other as sisters in Christ.
4. Study Out a Difficult Topic Together
The Bible isn't black and white, as much as we may want to pretend it is. That means there are big, huge gray areas that affect our daily spirituality without clear answers.
Big topics like gender roles, homosexuality, and social injustice are topics that are so vast and so volatile that it can be overwhelming to study out on your own. Part of me wonders if God did this on purpose so that we would have to rely on each other to wrestle and come to conclusions!
If you or people you know are struggling with a hot-button topic like these, see if they would be willing to discuss it with you. It isn't about changing anybody's mind or pushing an agenda, but rather about engaging in scripture the way it was meant to be – together!
My ministry is currently studying out homosexuality together. We've been meeting once every other week or so, eating a meal together, and then going through scriptures where homosexuality is mentioned. We research the culture in which it was written and share our own personal beliefs and experiences. And it has been so wonderful!
Even if we all come to different conclusions or no conclusion at all, we can have confidence that the Spirit worked in us as a group to bring closeness and revelation of scripture. It has taken a lot of courage and vulnerability to go here as a ministry, but we're all better for it.
5. Play Relational Bingo
As cheesy as this idea may sound, it was actually so encouraging for my ministry to do together this past month. The idea is this:
Everyone gets a "bingo" card with various challenges on it to foster spiritual depth. The challenges can be things like "Text someone an encouraging scripture," "Host a meal," "Open up about a current struggle," or "Go for a prayer walk with someone." Have the people in your ministry come up with the challenges together and mark them off as they go. 
Whoever the first person is to get "Bingo!" by marking off challenges on their card, wins! The prize could be anything from bragging rights to a free meal.
If you want your small group or ministry to grow in relational depth, this is such a fun way to start it.
For my ministry, this game didn't turn everyone into best friends in two weeks. But it did give us reasons to get together with new people, reminders to think of others when we read our Bibles, and ideas of how to build one another up. If nothing else, it was just encouraging to see everyone on board towards a common goal.
I hope these ideas spark something in you. Become a really good listener and open your ears to opportunities to intentionally grow in something with someone. Not everyone can make the time at every stage of life, but God will provide exactly who you need! And with all of the amazing resources out there, you will certainly find something to help you grow. The Holy Spirit is good that way. 
Photo Credit: ©GettyImages/pixelheadphoto 
Kelly-Jayne McGlynn is a former editor at Crosswalk.com. She sees the act of expression, whether through writing or art, as a way to co-create with God and experience him deeper. Check out her handmade earrings on Instagram and her website for more of her thoughts on connecting with God through creative endeavors.
LISTEN: Being Complete in Jesus (Understanding Matthew 5:21-48)
Hearing Jesus is a devotional journey through the gospels, where we explore the teachings of Jesus chapter by chapter. If you're seeking to live a life that reflects God's, this podcast is for you.
The views and opinions expressed in this podcast are those of the speakers and do not necessarily reflect the views or positions of Salem Web Network and Salem Media Group.
WATCH: 10 Sins Christians Downplay (and Why They're So Destructive)
Stock Footage & Music Courtesy of Soundstripe.com Thumbnail by Getty Images


#Practical #Ways #Initiate #Deeper #Spiritual #Friendships