When your family gathers for Thanksgiving, what does it look like? Is there a table for the adults and one for the kids? Do the adults and kids eat together at the same time? Are all the adults in one room while the children play in another or do all the generations of your family huddle together?
I ask, because whether we are conscious of it or not, most of us live our life by an unwritten societal rule which has developed over the last century. The rule's beginnings can be traced back in history to the time when one room schoolhouses were abandoned for schools with age-specific classrooms. It then became more entrenched into our society when its influence spread to the church manifesting itself in age-specific Sunday school classes and season-specific ministries.
This unwritten rule assumes that people are happier with others close to their own age.
The effects of this rule are not all bad. Age-specific groupings allow us to tailor such things as curriculum and activities and make it easier for us to form friendships with those in the same season of life.
However, if we allow our lives to be guided by this rule, we lose something fundamental – the intergenerational connection. And it's this connection that is crucial to family bonding.
Sure, it's easier to seat the children at a smaller table and let them go off to play by themselves. (It's often a lot quieter, too!) But the effort expended in creating opportunities for interaction and connection is so worthwhile, reaping benefits for each family member no matter their generation.
As Thanksgiving approaches, consider these 7 ideas for bonding with family.
1. Establish Routines
Establish routines for mealtime, bedtime, the beginning of the day, outings, or anything else you can think of. Children (and even many adults) thrive on schedules and routine. Additionally, some people are wired to have a better day when they know ahead what's coming.
Sweet memories and enduring traditions are often born out of the routines we enjoy.
To help you in thanking God, we created a 30 Days of Gratitude Prayer Guide HERE. Download and print this guide to keep with you as a reminder of God's love and promises.
2. Help Your Family Disconnect
We live in a face-paced, technology-saturated world. It's so important to make time to disconnect—from social media, electronical devices, and other distractions of our often hurried daily life.
Encourage reconnection among family members by turning off the TV, collecting phones and other devices at the door, observing "tech-free" time, or whatever works for your family.
3. Guard Mealtimes
Set the stage for conversation and interaction. Institute a "no phones at the table" policy. Seat family members together regardless of age—mix it up! Be ready with some conversation-starting topics or questions.
You might even consider setting the stage by simplifying meal preparation so that more time and energy can be spent on family time. Rather than fixing a big, traditional meal, cook a quick family favorite or prepare something ahead and pull it from the freezer. Another option is to ditch dinner prep completely and enjoy time together eating at your favorite restaurant.
4. Foster a Positive, Healthy Atmosphere
Thanksgiving gatherings are not the time for lectures or the airing of dirty laundry. If there are things that need to be addressed, it should be done privately and appropriately.
Instead, promote bonding by creating an atmosphere where family members feel encouraged and built up.
"Therefore encourage one another and build each other up," – 1 Thessalonians 5:11
Unsure where to begin? Try using your words to create a positive, healthy atmosphere when your family gathers. Compliment your grandchild's obedience and effort. Commend your adult child's character and quality of work. Acknowledge the faithfulness and contributions of your spouse.
5. Model the Life and Love of Christ
Family gatherings are a wonderful and effective vehicle for building bonds.
However, just as those bonds cannot be built among lectures and the airing of dirty laundry, they cannot be built in the presence of your sermons. Avoid the inclination to jump on your soapbox and preach while you have the family gathered.
Instead model the life and love of Christ. Practice the art of sharing your story when the mood and the conversation are right. Learn to listen well when your family members are sharing their story. Engage those who are gathered with questions that require a thoughtful response and provide insight into their lives.
6. Plan for Intergenerational Interactions
No, every moment of your family gathering doesn't have to be planned out, nor does it have to be intergenerational.
 It's actually a good idea to allow for some time when all the adults can talk with one another, and the kids can go off to play together. Remember the good benefits of age-specific groupings. However, the bonding of family cannot happen if there is never any time set aside for members to interact with one another across the generations.
When your family gathers this Thanksgiving, be sure to plan some time when all the members are invited to be involved in something together.  This time can be as simple as pulling out some board games or heading outdoors for some kickball, tag, or hide-and-seek.
If games aren't your thing, interact with one another as you enjoy some story time. Take turns telling stories about your childhood, designate a theme for your stories, or create your own by having each family member add a line in turn. 
There are so many ways to create moments for interaction while tapping into the strengths and talents of your family. Learn new songs together, sing Karaoke, dance, create pizzas for a family pizza party, go for a hike, hold a scavenger hunt indoors or out, or start a family YouTube channel. The options are as great and varied as the interests of your family.
7. Create Traditions
Tradition is the handing down of something (information, statements, beliefs, legends, customs, etc.) from generation to generation. It's a planned habit that has significance.
Family traditions help us look forward and backward. They provide a sense of belonging and create special bonding memories that will be treasured for a lifetime.
Consider instituting a new family tradition or two as your family gathers for Thanksgiving.
Do you prepare your turkey in a deep fryer? How about holding a "Does It Deep Fry?" after your main meal? This one comes from personal experience. My son-in-law introduced it a couple of years ago, and now everyone looks forward it to with great anticipation. This one new tradition brings to our gathering all kinds of crazy ideas and foods to throw into the deep fryer. While not quite as adventurous, perhaps an annual evening of S'mores around the firepit is more suited to your taste.
8. Enjoy a Family Outing the Day after Thanksgiving
Go to the same place every year or mix it up. How about bowling, roller skating, rock climbing, a visit to the zoo, or a stroll through a museum? Hold a Thanksgiving competition. Pit families or generations against one another in dance, song, joke telling, or cupcake baking. Shoot it out in a Nerf gun war.
Put your heads together and plan the family's annual vacation or volunteer together at a local ministry/charity.
As you make plans for your upcoming Thanksgiving gathering, consider your family and the time you will spend together. Which ideas fit your family's makeup and time frame? Choose one or two and plan for their incorporation into your holiday observance. Connecting the generations in these small but memorable ways helps to build fruitful family bonds.
---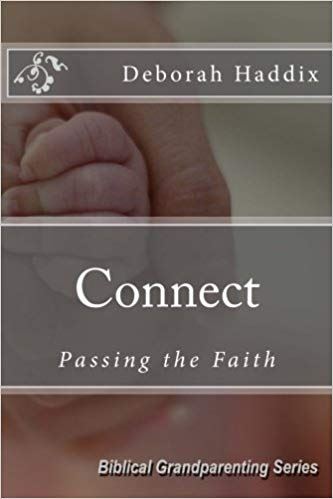 Deborah Haddix is the author of Connect: Passing the Faith. She also serves as co-director of Resources and Education for Christian Grandparenting Network's Prayer Ministry. Deborah writes, blogs, speaks, and coaches on topics related to biblical grandparenting, other life relationships, and soul care. Read the blog and find resources at her website.
Photo Credit: ©Pexels/August de Richelieu
LISTEN: A Prayer for Thanksgiving
The views and opinions expressed in this podcast are those of the speakers and do not necessarily reflect the views or positions of Salem Web Network and Salem Media Group.
WATCH: Daily Prayers of Thanksgiving

#Memorable #Ideas #Bonding #Family #Thanksgiving